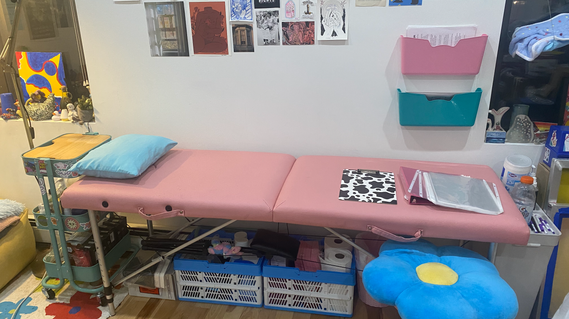 about my practice
i am a handpoke tattooer working out of a home studio in brooklyn, NY. i have been tattooing for 5 years, and have been taking clients professionally since july 2021.
i mostly tattoo my flash designs, but i am also open to customs! i tattoo in black, light blue, and light pink inks. you can view my flash designs on my "flash" highlight on my instagram, as well as in my instagram feed.
i usually book for a month or two out, but sometimes spots will open up for the current month. i abide by a sliding scale pricing system, and most of my tattoos fall around $200-$300. i am open to working with budgets and offer payment plans as well. you can book with me via instagram DM or fill out my booking form at the link below.
you can find more information on my "tat info" highlight on my instagram, which covers pricing, covid guidelines, and accessibility info. the best way to contact me to ask any questions that remain is via instagram DM.
to browse my previous tattoo work, most is posted in my instagram feed, and i also have a tattoo portfolio section in my "all work" page on my website.